Who will be the lucky 73?
If you are a medical marijuana cardholder in Ohio, you probably have heard about the recent April 2021 ruling approving the expansion of 73 dispensaries throughout the state. This means more access for products to those in rural areas, and more affordable pricing for patients.
In 2017, the Ohio State Board of Pharmacy initially approved 60 dispensaries to be spread throughout the state by single or multi-county districts. This number was based on the number of registered patients at the time, which was between 12,000 and 24,00. As of November 2021, there are 133,866 patients with both an active registration and an active recommendation. This means that there are 133,866 patients that have an active medical marijuana card, and they are actually using it to purchase products from Ohio dispensaries. So why would someone get their card, but not activate it to use at an Ohio dispensary? Patients like these are oftentimes those who decided against activating their card due to conflicting career/job requirements, affordability, the threat of losing their disability or other physicians/medication, or the lack of dispensaries in their area.
The numbers make it obvious the need for more dispensaries in Ohio. Luckily for patients, the board has to meet every two years and consider medical marijuana dispensary expansion based on the updated state and patient population, and how those patients are distributed across the state. Having more dispensaries available to Ohio's patients will help limit the number of patients traveling to neighboring states such as Pennsylvania and Michigan to purchase products and illegally transport them back across state lines, just to cut costs.
After the board met and approved the addition of 73 dispensaries, it has finally come time for the lottery and the award process, happening in late January 2022. The results of this process will ultimately determine which dispensaries will be allowed to set up shop. So what is the Ohio Medical Marijuana Lottery and how does it work?
The Original Dispensary Application Process:
There were two types of questions in the 2018 application.
One category was created to determine whether or not an applicant followed the minimal license requirements. This category included inquiries and documentation submissions.
proving compliance with a number of criteria, including:
The individuals associated with the applicants did not plead guilty to or were not convicted of a disqualifying offense;
The proposed dispensary location is at least 500 feet from a prohibited location;  Compliance with tax laws;
Established minimum capital requirements; and  Proper zoning approval.
For the January 2022 dispensary expansion, applications were accepted from Nov. 4- November 18th. Applicants were required to pay a $5,000 fee with each license application. A single owner can have no more than five dispensary licenses, so companies that already hold five licenses can't win another license.
Apply For Your Medical Marijuana Card Online Today!
Obtain a Med Card in your State
The Allocation/Award Process:
Based on the initial evaluation 2018 results, a prioritized list of viable applicants was developed for each dispensary district. When an application received at least 138 out of 230 (60 percent) of the available points, it was considered viable. The applicants with the highest scores were further scrutinized to ensure that they met the minimal license requirements. The Board may only grant up to five provisional licenses per applicant, according to the application requirements. Applicants could apply for as many licenses as they wanted. A prioritized list of viable EDG applications was prepared to provide for the statutorily necessary 15% set-aside for Economically Disadvantaged Groups (EDGs). Because nine licenses (15%) were not awarded to economically disadvantaged viable applicants in the general allocation, the remaining nine licenses were allocated in rank order to the top-scoring EDGs, displacing the lowest scoring non-EDG grantees.
Here are the number of applicants per county for the 2022 dispensary expansion:
Cuyahoga County – 208 for five licenses.
Montgomery County –186 for four licenses.
Franklin County – 120 for nine licenses.
Summit County – 107 for two licenses.
A district containing Coshocton, Muskingum and Morgan counties – 101 for one license.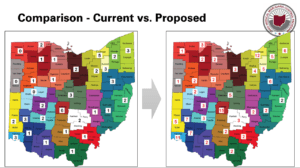 What's Different in 2022?
The biggest change this time around is the entire 'lottery process'. This will determine which qualified applicants get one or more licenses from a limited number awarded.
This process is to ensure that small and minority-owned businesses can compete more fairly with multi-state operators, which typically are not operated by minority owners, spokesman Cameron McNamee said.
That alone won't solve the problem, Rep. Juanita Brent, D-Cleveland, said. Brent wanted the board to hold off on the application process until it has equity provisions in place that lead to more Black and brown business owners. Rep. Juanita Brent, D-Cleveland, requested that the board postpone the application process until equity requirements are in place, which will result in more Black and brown business owners.
The lottery, according to Sharon Maerten-Moore, the board's director of medical marijuana operations, will speed up the process. The last time the board reviewed and scored applications, it took six months. From the June 2018 license awards, lawsuits are still pending.
According to Maerten-Moore, licenses could be awarded in January or February, about half as soon as the first round.
Who are the lucky 73?
The drawings for provisional dispensary licenses (PDLs) were held on Thursday, January 27, 2022. The results of the drawings are available on the dispensary page of the Ohio Medical Marijuana Control Program (OMMCP) website.
The Board will not be able to officially announce which applicants are to be awarded a PDL until it has fully reviewed the applications to determine if the top-ranked applicants are eligible to obtain a PDL. For more information on this process, the Board developed a frequently asked questions document.
Earlier this month, Klutch Cannabis founder and CEO Adam Thomarios spoke with Cleveland Ohio's Channel 5 News about his experience with the recent dispensary application process.

Klutch Cannabis, medical marijuana cultivator and processor located out of Akron, does not currently have any operating dispensaries, as they were not awarded a dispensary license in 2018.  However, this time around, Thomarios wanted to give Klutch the best chance possible to be successful in the lottery. He did this by submitting 73 totaling out to $365,000 just in submission/application fees as this does not include the legal team backing Klutch to ensure a successful application process. His original goal was 40 applications.  Klutch was awarded 3 dispensary licenses during the January 27th drawing. Thomarious mentioned during his interview that Klutch will "have more direct contact in order to promote the company's brands, talk with patients, and tell them which products might be best for their conditions,".

To view the entire updated January 27th, 2022 Ohio medical marijuana dispensary lottery drawing results, and see which dispensaries will be popping up near you in 2022, click here.
SCHEDULE A CONSULTATION TODAY FOR MEDICAL MARIJUANA IN OHIO!
Are you suffering from a debilitating medical condition, but don't know if you qualify? Click Here to see if you may be eligible to obtain your own Medical Marijuana Card to treat your ailment with medical marijuana, which includes both THC and CBD products. Any of the products listed above can be found at your nearest Ohio Dispensary.
Click Here to learn more about what My Marijuana Card's state-certified marijuana doctors can do for you, or give us a call at 877-783-1805 and our friendly patient coordinators will set an appointment and walk you through the process of receiving your own Medical Marijuana card. Get your Ohio marijuana card today online!