Welcome to My Marijuana Card, your #1 partner in compassionate care.
​Thanks for taking the time to visit our page. Since you're here, let's go into what it takes to explore the magic of medical marijuana!
A caring team of forward-thinking healthcare professionals and licensed Ohio marijuana doctors,  we support health, enrichment, and compassionate care through the legal use of medical marijuana.
Before subversive propaganda distorted its name, marijuana was used as medicine the world over, for thousands of years.  But the truth about cannabis is rising again, thanks to groundbreaking research, progressive legislation and tremendous grassroots support. Guided by the spirit of changing tides, we've been inspired to help thousands toward big personal change. As outdated models have traded for freer perspectives we've seen communities strengthened, economies revitalized, and patients re-imagining hope for happiness in their lives.
Thanks for taking the time to visit our page. Since you're here, let's go into what it takes to explore the magic of medical marijuana!
We love that you're interested in joining the millions of across the country who've made medical marijuana a part of their regular health and wellness regimens.
Here are some things you'll want to check before your visit.
Step 1: Qualifying Conditions
Marijuana keeps us healthy in a number of ways. Science still discovers things about it all the time. But despite growing numbers of successes hitting each passing state, there are varying specifics on what's allowed. US states where medical marijuana's legal draft lists of medical conditions that qualify for treatment. Check the list before you come to visit to determine that you're eligible for treatment.
Step 2: Verification
If you have been diagnosed with a treatable condition or think that you could be, get written verification from a doctor. Different doctors have different views on best ways to do medicine. You'll want to try and find one that shares your personal health and wellness worldview.
In any case, before you come to visit, bring at least one page of documentation that proves that you have a qualifying condition treatable through the use of medical marijuana, or have it faxed to our office for your appointment. Our fax number is (419) 237-7118, or we can call and help you get them too.
Step 3: I.D.
Bring a valid State ID, Passport, or Driver's License.
Step 4: Email 
Make sure you have a valid email address, preferably one that you can access on your cell phone. (If you don't have one, or do but don't know your password, don't worry, our patient coordinators can help you create one.)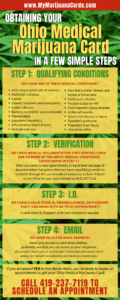 Our care model is unique in a number of ways. Here are a few of the things that make each visit special:
​Efficiency
At My Marijuana Card, we pride ourselves on efficiency.
The full appointment, including check in, consultation with an Ohio medical marijuana Doctor, and check out, runs just 45 minutes to an hour.
Our process is unique, designed to minimize both paperwork and stress so can get out and live your best life.
Education 
Knowledge is everything so we'll continue to keep you informed with weekly blog articles and an impactful newsletter to keep you in the know about medical marijuana in Ohio, Michigan, and worldwide. We report on marijuana licensing laws, changes in marijuana industry trends, marijuana dispensary openings, and more.
We cover broad topics thoroughly and address the most common questions of new and existing medical marijuana patients, such as "Where can I find dispensaries near me?" "Where's the closest medical marijuana doctor?" "How do I qualify for a medical marijuana card?", and more!
We check in on the best studies, and scour the web for the most reliable sources so you can stay in the know with as little fluff as possible.
Compassion
We understand how difficult it can be to ask for help, especially when not everyone sees the good in the help you seek.
We get it. Self-care is a personal journey of which you know the details best. Our open-minded, well-informed staff will guide you through this delicate process with fairness and the utmost respect.
We do one-stop-shopping. It's all covered in one transaction, the first and future visits included.
We're not into bullshit.  We're here with better ways to live your best life. To help you through to go out and do good.
We're honored that you would choose us to help you get care. Now all you need to do is come see us.