WHAT IS HAPPENING IN MISSISSIPPI WITH MEDICAL MARIJUANA?
Mississippi Supreme Court overturned Initiative 65, the formation of a medical marijuana program for Mississippi, which voters approved last fall. This decision not only hinders the medical marijuana program from forming in Mississippi, but also limits other citizen-led efforts to put issues on the statewide ballot such as a request for early voting, and expanding Medicaid.
The Mississippi Supreme Court reversed the state's entire Citizen Initiative and Referendum procedure after citizen-initiated ballot measures put a government official's personal interests at stake. Citizens accuse the state's highest court of degrading democracy 99 years after it was established. Madison Mayor Mary Hawkins Butler filed a lawsuit in advance of the election, arguing that collecting signatures would be impracticable given the city's four congressional districts.
Kelly Jacobs, the co-chair of an early voting ballot initiative campaign underway until last month's order stopped it, said in a late Monday night statement that a rehearing would enable people to offer "new facts" and "arguments" to the judges.
WHY IS THIS MEETING ABOUT THE
RESURRECTION OF MEDICAL CANNABIS TAKING PLACE?
"Our goal is to have a rehearing. … We want our Constitution to remain intact and the certified election results of Initiative 65 to be enforced," Kelly Jacobs said. Initiative 65 is the medical marijuana initiative that more than two-thirds of voters approved last November.
Mississippi Medical Marijuana Association executive director Ken Newburger said he and others made some "misguided" judgments when Initiative 65 was created, such as delegating the program to the state Department of Health.
"There are some major gaps that I think a lot of you have pointed out in the past, and a lot of people in the state have pointed out that need to be remedied, "Newburger said Thursday during a Senate Public Health Committee meeting at the state Capitol. However, Newburger claimed that the underlying principles that voters approved must remain intact: patients should be able to consume marijuana in any form, and the program should be self-funded.
WHY IS THIS MEETING ABOUT THE
RESURRECTION OF MEDICAL CANNABIS TAKING PLACE?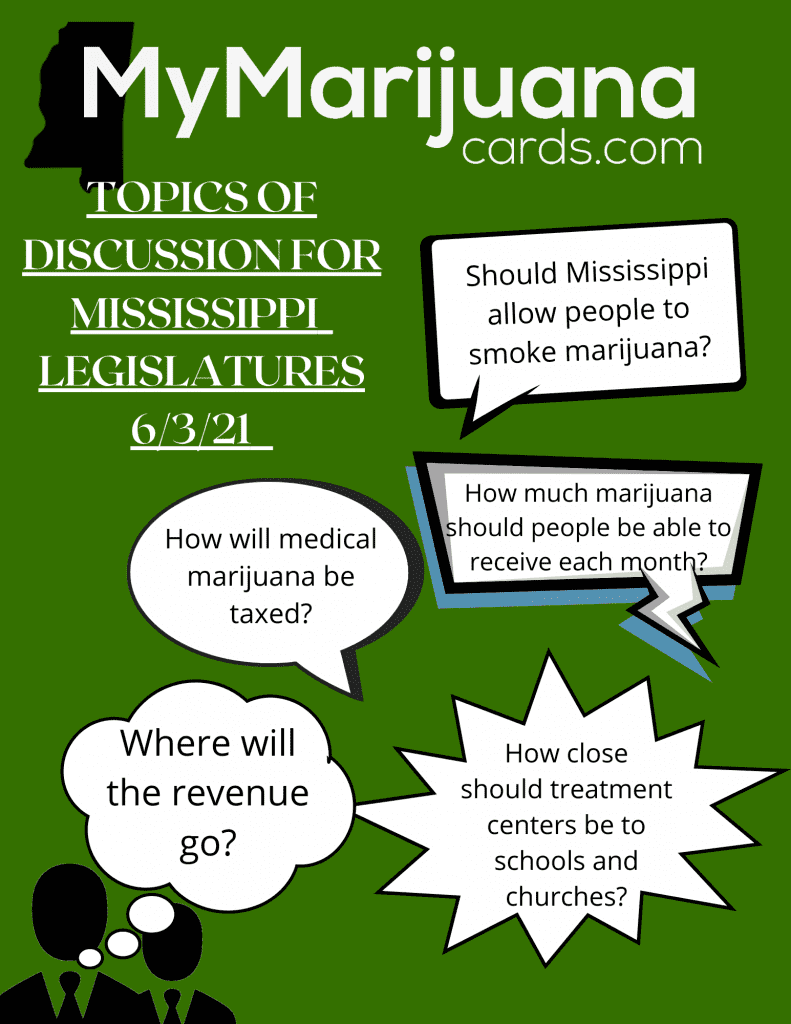 The cannabis program should be based on science. A COMPREHENSIVE program allows for all types of treatment methods! This is a MEDICAL program, so why would legislators not talk to MEDICAL experts before proposing legislation?
The reason for such a broad selection of medical marijuana treatment methods is because smokable cannabis "flower," edibles, topicals, suppositories, and many, many more is that everyone's body is different, and people metabolize things differently.
Some patients cannot take marijuana edibles because they will be allergic to the additives in the product. Some people cannot take tinctures because they are allergic to the alcohol or glycerin used in those products. Smokable forms of marijuana are absolutely necessary for a comprehensive medical marijuana program!
WHY DOESN'T THE MISSISSIPPI COURT FEEL
THE NEED TO INTERJECT?
McCarthy claims that the court is following a 99-year-old trend of knocking down constitutional provisions that it "deems defective" to the "serious disadvantage of the writers of the same constitution it pretends to defend."
"And just as before, it has done so when individual members of the Legislature or other elected officials complained because they did not like the specific results of the citizen sponsored initiative process," the motion for a rehearing says.
Former Gov. Phil Bryant (R-MS) was an outspoken critic of Initiative 65. In December 2020, three state senators and three state representatives joined Mayor Butler's friend-of-the-court brief in support of his motion to overturn Initiative 65 and the ballot initiative legislation.
Legislators stated that "the Legislature was well aware of the importance of the 2000 decennial census" and that it could have amended the ballot initiative statute if it had desired. Since 2003, numerous legislations have been presented to amend Section 273 (3).
"Clearly, the Legislature is aware of the issue and has acted numerous times in hopes of addressing it," the three said in their friend-of-the-court brief. "That the Legislature has not yet succeeded in bringing a proposed amendment before the electorate is no cause for the Court to interject itself into what is clearly a legislative matter."
Apply For Your Medical Marijuana Card Online Today!
Obtain a Med Card in your State
ROBBING MEDICAL MARIJUANA INITIATIVE VOTERS OF A FUNDAMENTAL RIGHT
According to the lawyer representing the ballot initiative campaign volunteers, many in the Legislature opposed giving voters the option of voting on ballot initiatives.
"Elected officials, whether they be the Revenue Agent in 1922 or Petitioner, who fears medical marijuana, or the Legislature, who has known of the voters' desire and efforts to pass medical marijuana for many years through numerous attempted ballot initiatives but refused or failed to act, have glibly thrown the rights of the people under the bus as collateral damage all in the service of their own plight."
"The Supreme Court's position must be one of enormous respect to the Constitution, flaws and all, and in the interests of all Mississippians, not just a few. This terrible ruling allows elected officials to deprive voters of a basic right to which they are entitled. For the second time, it did so on a technicality rather than because a provision became invalid as a result of subsequent provisions established in that Constitution."
Rehearing states that the initiative procedure is time-consuming, citing requirements "extremely detailed" for initiative sponsors that lack the burden of reciprocity. Despite that, McCarthy believes "Mississippians must not be denied the ballot initiative process due to an incorrect understanding of the law."
"Democracy falls, not all at once, but cut by cut and blow by blow," according to the motion. "This court must not be held accountable for another major blow to democracy and the demise of this people's right."
HOW DO THE MISSISSIPPI RESIDENTS FEEL AFTER THIS ATTEMPT OF RESURRECTING THE MEDICAL MARIJUANA PROGRAM?
Mississippi doesn't care about the voters. The Supreme Court made it clear that they don't matter. This should not be up for further debate. Business owners put their life savings into medical marijuana; desperate patients saw a glimmer of hope with the passage of initiative 65. Now that is all taken away for an alleged technicality that somehow only affects 1 of the many voter initiatives passed these past 20 or so years.
Mississippians are not idiots. They know that doesn't make any sense. If the government wanted to update the language to reflect the current districts, they've had enough time to do so. When 74% of voters decide on something like this, that is clearly the majority. They did their part. The t's were crossed, and i's dotted. Groups like, 'We are the 74' are rounding up to make sure everything is the way it should be when they get their voices heard.
Once again, the corrupt politicians are failing them. Mississippians will make sure to campaign against everyone responsible for creating this unnecessary lingering struggle and oppression. The people of Mississippi have spoken. But, at this point, they don't really care to hear what "both sides" have to say, nor waste more money on committees. The majority spoke and said what they wanted, so they expect the politicians to enact what was voted on by the majority of the people; as they had passed it.
Many feel that 2.5 hours is 2.5 hours too long to be discussing something that has already been settled. So, Mississippians, the 74% are pleading that Legislatures do what they voted them in to do and let the people's will become law.
WTVA in north Mississippi reported that Governor Reeves isn't calling a special session until they decide "what kind of medical marijuana bill they want to pass". What that says to the people is, they have NO plans on passing what was voted for. It will be a very watered-down and restricted bill. A government that no longer represents the people in a representative democracy is by definition illegitimate. Are we the generation that lets legitimacy slip away?
HOW DO THE MISSISSIPPI RESIDENTS FEEL AFTER THIS ATTEMPT OF RESURRECTING THE MEDICAL MARIJUANA PROGRAM?
In the coming days, an attempt to distract Mississippians will be underway. Stay focused! Some of what the Mississippians are asking for—demanding.
For Tate Reeves to schedule a Special Session now!
Honoring the people's vote of Initiative 65.
Fix the districting issue and give them back their voice!
The message from activists, industry, and patients is clear, "Mississippi voters chose medical cannabis. Mississippi voters want medical cannabis. Mississippi voters will have medical cannabis. Or there will be electoral consequences." A great resource for finding cannabis-friendly local representatives in your state is The Cannabis Voter Project, they list all of Mississippi's state representatives
Mississippi voters feel betrayed by their government. "No special session, no re-election!" wrote Donnie Collins on May 18, "We have spoken! Tate Reeves do the right thing!  We are watching!" The outraged medical cannabis advocates in Mississippi have made their position clear. Professional polling data confirms that voters across the state stand with them.  The people of Mississippi reject their Supreme Court's recent 6-3 decision, which killed the state's medical cannabis program in its infancy.
Collins, a prospective medical cannabis patient, and entrepreneur echoed the sentiments of thousands of Mississippi voters in his Facebook group post. "We Are The 74" is one of several groups that came alive with outrage at the decision.
OPINIONS ON MEDICAL CANNABIS FROM MISSISSIPPI'S LEGISLATURES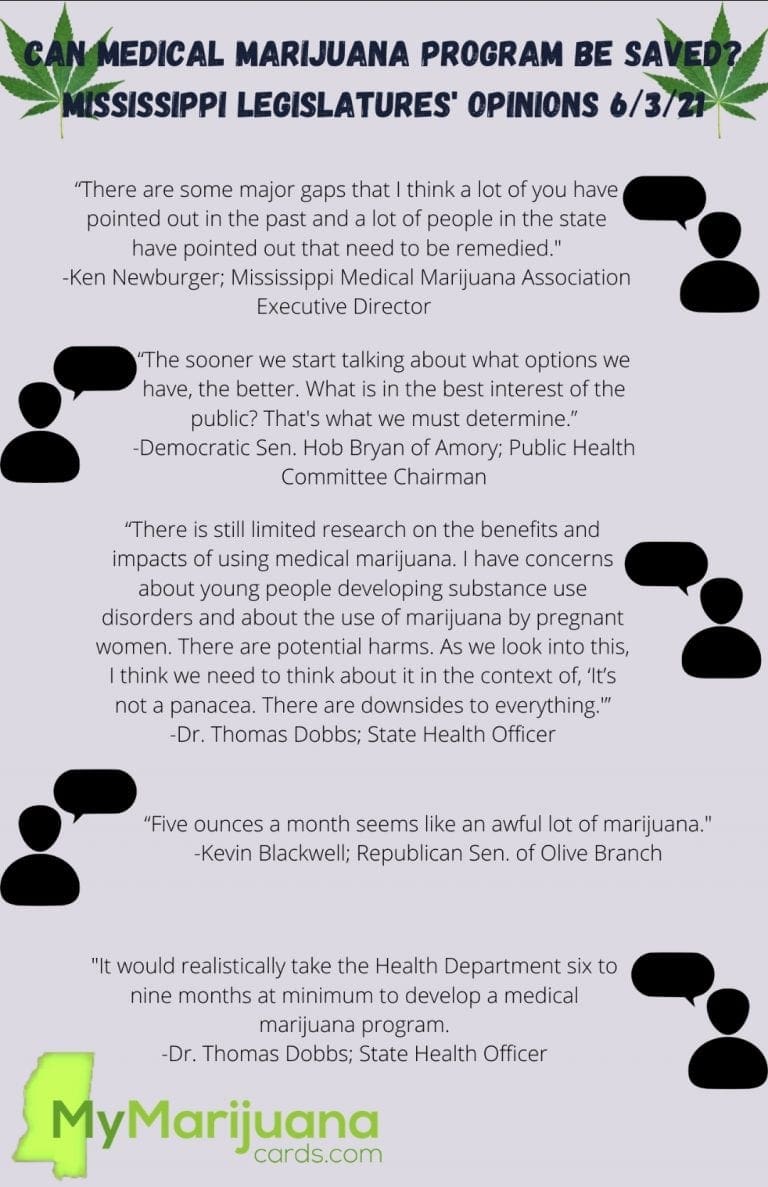 LEARN MORE ABOUT MISSISSIPPI'S MEDICAL MARIJUANA PROGRAM DEVELOPMENTS
Click Here to learn more about what My Marijuana Cards is doing to help inform prospective medical marijuana card patients in Mississippi. Be sure to follow our social media platforms and subscribe to our newsletter. We are here to keep you up to date on the progress of the denial of Initiative 65 and everything in Mississippi relating to medical marijuana and its existence as a program. Give us a call at 877-783-1805. Our friendly patient coordinators will inform you of any updates and advances of the supposed program.