Curious about which medical marijuana strain is best for you? Read on to learn more about this week's featured strain — Cherry Pie.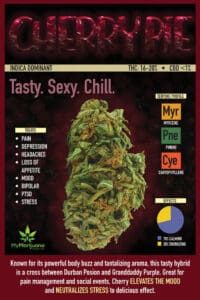 Curious about Cherry Pie or other potent medical marijuana strains?
Find what serves you best — get an Ohio medical marijuana card from MyMarijuanaCard.com, now offering telemedicine consultations online. 
Ohio's got happening places to experience medical marijuana. Check the deets!
Meanwhile, learn about how former Detroit Lions, Rob Simms, and Calvin "Megatron" Johnson have teamed up to give that thriving Michigan marijuana market a go.
Obtaining your Ohio medical marijuana card has never been easier. Get your medical card online from home Canton, Ohio.  Talk to your Ohio medical marijuana doctor on your own time Youngstown, Ohio.  In 10 minutes or less you could have your Ohio medical marijuana card Elyria, Ohio.  Don't wait get your Ohio MJ card from your couch Springfield, Ohio.  Through telemedicine, there is nowhere in Ohio (including up north in Sandusky, Ohio!) where patients can't talk to their doctor.
Call 419-237-7119 now or click here to get started!
Get Cherry Pie now at your local dispensary.​