Most evidence suggests that the therapeutic use of cannabis can significantly improve the quality of life for both those with PTSD and their families. Unfortunately, treating PTSD with medical marijuana is not a cure. However, when the plant activates the body's cannabinoid receptors, it provides incredible relief for a few of the most debilitating symptoms associated with the disorder, including:
PTSD Symptoms Treated by Medical Marijuana
Anxiety:

One of the most common afflictions associated with PTSD is chronic anxiety. Cannabis with large amounts of CBD has been shown to reduce stress and fight anxious feelings. It also has mood enhancing abilities.

Nightmares:

Nightmares are an intense side effect of post-traumatic stress disorder. Marijuana may have the ability to reduce REM sleep (rapid eye movement). This is the stage where the most vivid dreams occur. A decreased REM cycle may be effective at treating PTSD-related nightmares.

Insomnia:

Due to the flashbacks, nightmares, and anxiety, those with PTSD experiences also have insomnia, and find it difficult to fall asleep. Even those who fall asleep are sometimes awoken by the intense nightmares caused by the disorder. THC has been shown to both reduce the time it takes to fall asleep and improve the overall quality of sleep.
How to Get Medical Marijuana for PTSD
Medical marijuana PTSD isn't approved for post-traumatic stress disorder in all states with medical marijuana laws. But it does qualify in several states. Getting in contact with My Marijuana Card will allow you to learn more. Search for a doctor in your area and to see if PTSD qualifies for medical cannabis in your state.
Ways to Use Medical Marijuana for PTSD
There are several ways to ingest marijuana for post-traumatic stress disorder, including:
Tinctures:

This oral ingestion involves administering an oil-based form of medical marijuana under the tongue and allowing it to be absorbed in the bloodstream. Patients usually feel the plant's effects within three to five minutes, providing relief from intrusive nightmares or insomnia when taken before bed.

Edibles:

Both edibles and tinctures offer a non-inhalation method of ingesting cannabis. Edibles are capsules, food, or drinks infused with medical marijuana. Because this method involves consuming the plant, it sometimes can take up to a couple of hours for the full effects to be felt. However, once they kick in, the side effects of the cannabis can last up to 12 hours. Thus, making edibles an excellent option for those who require long-lasting relief. Because of this, oral cannabis is often used before going to sleep.

Inhalation:

Inhaling medical marijuana either by smoking or vaporizing the plant provides the fastest onset, usually only a minute or two. Plus, the effects last for several hours. Most doctors recommend smoking cannabis, as patients may ingest byproducts produced when the plant is lit. In addition, inhaling medical marijuana appears to be most effective at alleviating fear or memories experienced during the day.
To get the most therapeutic benefit from cannabis to improve PTSD symptoms, it's recommended that patients start with low to moderate doses.
Best Strains of Marijuana for PTSD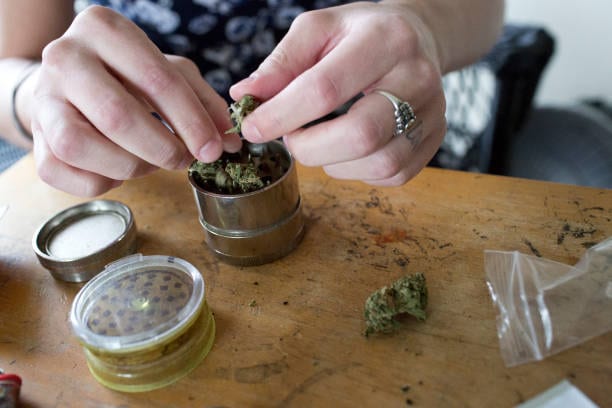 There are numerous strain options available that may help alleviate a patient's PTSD symptoms. Before choosing one, however, you need to understand the difference between strains high in THC and those which are CBD dominant.
When using cannabis to treat PTSD, high-CBD strains provide mood-stabilizing effects, especially if a patient feels mentally or emotionally unstable. In addition, those strains with large amounts of THC are generally most effective in the evening or at night to aid a restful night's sleep.
It's also important to note that CBD does not produce the "high" associated with marijuana. CBD dominant strains with less than one percent. THC content has no psychoactive side effects.
With that in mind, here are five strains that offer incredible benefits for patients with PTSD:
OG Kush (Hybrid):

With its pleasant, euphoric effects, OG Kush is considered an ideal strain for PTSD patients. It calms your entire body, making it perfect for a relaxing evening at home. It has a high THC content, usually between 20 and 24 percent, and a low CBD ratio, generally around 0.2 percent.

Pineapple Express (Hybrid):

Most people have heard of this popular hybrid due to the movie of the same name. However, there's a good reason the bud is so popular. Its smooth and well-balanced effects leave users feeling clear-headed. PTSD marijuana allows patients to medicate during the day and go out and about. It eases anxiety while still leaving you highly functional even though the THC content is high, about 20 percent, and the CBD content is low, usually 0.1 percent.

Cannatonic (Hybrid):

With an exceptionally high CBD content, ranging from six to seventeen percent, Cannatonic provides daytime relief. It can also produce a mild high, as the THC content is around six percent. Those who use this bud are left feeling relaxed and calm. Suppose you struggle with mood swings, especially flares of anger. This strain can help you feel more balanced. It also helps reduce anxiety.

Blue Dream (Hybrid):

Because of its ability to provide mental invigoration and full-body relaxation, this Sativa-dominant strain is one of the most popular choices among PTSD patients. It eases social anxiety and provides incredible mood-lifting abilities, improving a user's general outlook. Although it has a high THC percentage, usually between 17 and 24 percent, it's considered a well-balanced hybrid. The CBD content, however, is only 0.1 to 0.2 percent.

Master Kush (Indica):

This indica strain is not recommended for beginners as it is quite potent. However, PTSD patients who struggle with insomnia find it provides a euphoric sensation of bliss right before they drift off to sleep. The THC content is usually around 20 percent, and the CBD ratio is generally one percent.
Side Effects of Marijuana for PTSD
Medical marijuana taken with proper monitoring by a mental health professional ensures that potential side effects contrary to the patient's goals are observed and the medication is adjusted. Unfortunately, self-medication does not provide such a fail-safe, though it is the only marijuana treatment option for thousands of people living with PTSD.
If there are adverse effects to marijuana use, such as psychosis, paranoia, and increased anxiety, in people living with PTSD, doctors may not know whether it is PTSD or drug use if the marijuana is not obtained with doctor's recommendation.
Schedule a Consultation today!
Are you suffering from a debilitating medical condition but don't know if you qualify? Click Here to see if you may be eligible to obtain your own Medical Marijuana Card to treat your ailment with medical marijuana, including THC and CBD products. Any of the products listed above can be found at your nearest Ohio Dispensary.
Click Here to learn more about what My Marijuana Card's state-certified marijuana doctors can do for you. Or give us a call at 877-783-1805, and our friendly patient coordinators will set an appointment. We will walk you through the process of receiving your own Medical Marijuana card. Get your Ohio marijuana card today online!