Ohioans (and others), identify your region below and see if you're familiar with any of these amazing regional facts.
The 7th largest state in the country, Ohio has been the site of famous military battles, Native American landmarks, grisly murders, hauntings and amazing technological discoveries.
If you live in Ohio, hopefully you're already familiar with the diverse cultural, historical and economic features that define your greater community. If not, you're definitely in the right place. Here we're breaking Ohio down into bite-sized pieces, revealing details that could make you say OH!
With Lake Erie in the north, The Ohio River in the southwest and scores of rolling foothills to the south and east, Ohio's diverse collection of plains, rivers and plateaus have paved crucial gateways between many parts of the country, making it key to life in America even before the westward expansion.
Features of its geographic regions have created not only trade routes, settlements, towns and cities, but also combinations of adjacent metro and micropolitan statistical areas – regions of economic and social linkage that create distinct pockets of culture by which Ohioans can be defined.
Ohioans, (and others) scan information about the regions below and find out where you fit: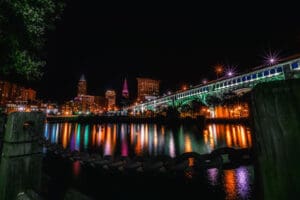 Lake Plains Region
Cleveland – Akron – Canton statistical area
This sector includes: Cleveland, Elyria, Akron, Canton, Massilon, Ashtabula, New Philadelphia, Dover, Sandusky, Norwalk
Home to Cleveland, one of the country's best known metropolises, this area grew rapidly after the completion of the Ohio and Erie Canal. This key link between the Great Lakes, Atlantic Ocean and Ohio River allowed the region's products to reach markets as far as the Gulf of Mexico via the Mississippi. From its status as a strong manufacturing center, Cleveland built a diverse economy that includes biomedicals, financial services, healthcare and higher education as well as cultural institutions including the Cleveland Orchestra, the Cleveland Museum of Art and the Rock and Roll Hall of Fame.
FACTS: ​
Cleveland was the birthplace of iconic comic book character, Superman.
The Cleveland Arcade was the first indoor shopping mall.
In 1967, Cleveland became the first major city to elect a black mayor, Carl B. Stokes.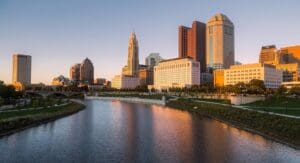 Central Lowland Region
Columbus – Marion – Zanesville statistical area
​
This sector includes: Columbus, Zanesville, Chillicothe, Marion, Mount Vernon, Bellefontaine, Cambridge, Washington Court House
Central Ohio hosts the capital city, the state's second-largest metro, and the biggest college campus in the country.
FACTS: ​
The region is home to the Mansfield Reformatory, where ominous reports of supernatural activity persist to this day
In October of 2011, Terry Thompson, a Zanesville man, released 56 exotic wild animals from his personal wildlife preserve. In the end, a total of 49 animals were killed by law enforcement, including 18 Bengal tigers, 17 lions, six black bears, two grizzlies, three mountain lions, two wolves and a baboon.​
48% of Americans live within 600 miles of Columbus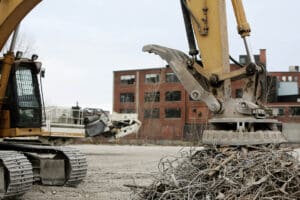 Allegheny Plateaus
Youngstown – Warren – Boardman statistical area 
This sector includes: Youngstown, Warren, Boardman, Salem
The Allegheny Plateaus near the Pennsylvania border, host an ethnically diverse working class culture in an an area of the Rust Belt known as Steel Valley, historically, the largest steel producing region in the world.
FACTS: ​
Youngstown has been a center of mob activity since the 50's earning it the nefarious moniker: "Murdertown USA"
Youngstown has produced five boxing world champions: Ray "Boom Boom" Mancini, Harry Arroyo, Jeff Lampkin, Greg "Flea" Richardson, and Kelly "The Ghost" Pavlik.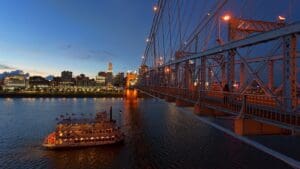 Bluegrass Plateau/Lower Lowland Plains
Cincinatti – Wilmington – Maysville  and Dayton – Springfield – Sidney statistical areas
​
This sector includes: Cincinatti, Wilmington, Dayton, Springfield, Greenville, Sidney, Urbana
The area near the Ohio River in the state's Southwestern corner marks a geographic transition zone and door to the Midwest. The climate gets more subtropical closing in on Kentucky and the culture is different there too.  It houses the Cincinnati metro, Ohio's largest metropolitan area, and the fastest growing economic power in the Midwestern United States.
FACTS: 
Former daytime talkshow host Jerry Springer served as mayor of Cincinnati until a prostitution scandal forced him to resign.
Cincinnati was the birthplace of Skyline Chili.
The region is home to the Loveland Frogman, a giant frog-like creature that walks upright on two legs and has apparently terrorized local residents since the 50's.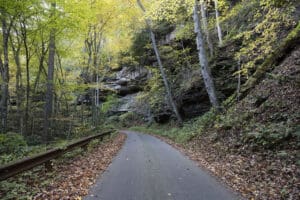 Appalachian Plateaus
This sector includes: Athens, Marietta, Jackson, Gallipolis, Portsmouth, Hillsboro, Ironton
The Appalachian Plateaus are a series of rugged, dissected plateaus located west of the Appalachian mountains. Much Native American history resides here as it is the historical site of two major Native American mound building groups as well as the famous Ohio Serpent Mound. It also hosts the site of Ohio University in Athens, a Division I athletic school also known for its annual Halloween Block Party.
FACTS: 
Athens is home to the notoriously haunted Athens Insane Asylum, where many brutal practices including lobotomies and shock therapy were routinely performed.
Athens was named the 13th most haunted place in the world by the British Society for Psychical Research.
It is believed that the region was the birthplace of famed Native American political leader Tecumseh..
Now that you know where you fit, here's the amazing  Ohio fact that's really no secret. You can get your Ohio medical marijuana card online as soon as today by making an online telemedicine appointment.
Click here and make an appointment to get approved for medical marijuana in Ohio today!