Now that most states provide it, more people are considering the pros and cons of getting a medical marijuana license. The benefits and drawbacks of a medical card may be unclear due to the variance in state regulations. This is especially true in places where medical and recreational marijuana is available since this might lead to confusion and hesitation among patients seeking medical marijuana cards in such places.
Pros of a Medical Marijuana Card
Even if you reside where marijuana is legal for recreational use, there are still several advantages to obtaining a medical marijuana card.
You are Legally Protected
Protect yourself legally with a medical marijuana card. Despite federal prohibition, states have the authority to safeguard medicinal marijuana users. This is especially significant in jurisdictions where marijuana use is illegal. If possession of marijuana is banned in these states, it may result in fines or jail time. Considering the potential ramifications, we advise getting a medical marijuana card in your state.
Marijuana is More Affordable
Getting a medical marijuana card can save you a lot of money if you live in a state with a recreational program. Recreational states typically charge an additional excise and retail tax on all recreational marijuana sales, adding up to over 7- 40% in taxes due on each purchase made. Medical patients will be exempt from paying these excise and retail taxes, saving them hundreds, if not thousands, of dollars yearly!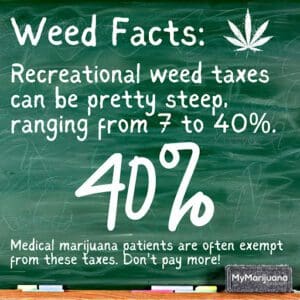 Higher Potency and Limits
Marijuana's potency might be beneficial for pain management. The quantity of THC and other cannabinoids in marijuana affects the drug's strength. The more potent the marijuana product, the better it will alleviate your symptoms. That means a smaller dose of marijuana will provide the same level of relief.
In most states that have medical and recreational programs, the restriction for medical marijuana is higher. The same holds for food. In Colorado, edibles sold for recreational use are restricted to 100 milligrams of THC per package, whereas those sold for medical use have no such limits. In certain areas, the strongest strains of marijuana are set aside for medical use.
Higher Possession Limits
Patients with a doctor's recommendation to use marijuana for medicinal purposes can buy and keep more of the drug than recreational users. For medicinal users, the difference is usually at least an ounce of cannabis, which is quite a bit. Increased monthly allowances for medicinal marijuana users might be the difference between running out of medication and not having enough to get by.
Higher Growing Limits
Both the states of California and Colorado have legalized the personal cultivation of marijuana. The majority of legalization initiatives for medical and recreational cannabis also include personal cultivation. In several of these states, medical marijuana growers might outnumber recreational consumers.
For recreational use, the state of Colorado, for instance, permits six plants per person and twelve plants per dwelling (if multiple adults live there). If a doctor in Colorado recommends it, a patient may grow up to 99 plants for medicinal purposes.
Apply For Your Medical Marijuana Card Online Today!
Obtain a Med Card in your State
Cons of a Medical Marijuana Card
After discussing the many upsides of having a medical marijuana card, it's important to look at the potential drawbacks of being a cardholder as well.
You Can't Purchase a Firearm Legally
Due to gun limitations, many people fear applying for a medical marijuana card in their state. Due to federal prohibition, patients who use medical marijuana are prohibited from legally possessing firearms. This is one of the main criticisms leveled against health insurance cards. The sale of firearms is restricted to new buyers exclusively. Patients who use marijuana for medical purposes may keep their firearms provided they comply with all laws concerning firearms.
Commercial Driving License (CDL) Restrictions
Although several states have passed legislation making medical marijuana available, the Department Of Transportation (DOT) still forbids medical marijuana use. The DOT still has a zero-tolerance policy against cannabis as a federal agency. If you have a CDL, your medical record will not be shared with other divisions. A medical marijuana card will not save your CDL if you fail a drug test because of marijuana, and you can expect to be dismissed if this happens.
Annual Renewal Fees
To keep their cards current, patients in all states' medical systems must periodically renew them, usually once per year. This often entails a state registration charge of anywhere from $100-$200, in addition to a renewal price to be examined by a doctor again.
Although this may seem like a lot of money initially, the money that patients save by not buying for recreational purposes when they might use their medical cards instead often covers the renewal cost.
Government Employment
It's hardly surprising that getting a government job while using medical marijuana is forbidden on the federal level. The vast majority of government agencies maintain a zero-tolerance policy towards cannabis and other substances that are on the federal schedule.
Since HIPAA shields medical marijuana users, using marijuana while working for the government won't be an issue unless you happen to be randomly subjected to a drug test. When it comes to government workers, we always advocate for careful consideration of whether or not obtaining a medical marijuana card is the best course of action.
Dealing with Bureaucracy
In the United States, states have different regulations and time frames for obtaining medical marijuana. Medical marijuana cards may be obtained the same day in several states. The process might take as long as 45 days in certain states like Maryland. The state application process might be difficult for certain patients since it needs a passport-style photo and a photo ID.
Despite the state's lengthy process, My Marijuana Cards may assist you in quickly getting the doctor's portion of your medical card by offering same-day appointments. We assist with the various state registration requirements to reduce administrative load and speed up the registration process.
Should You Get A Marijuana Card?
The benefits and drawbacks of obtaining a medical marijuana license may vary from state to state, but we can generally anticipate a similar scenario regardless of where you call home. Increased legal protection, lower drug prices, and greater medicine potency, possession, and growing limitations are all advantages of medical marijuana.
If you work for the United States government or want to buy more guns, you will face problems applying for a medical card. Thanks to the data presented here, you should now be able to answer the question, "should I acquire a medical marijuana card?" with more certainty.
Learn More About Getting a Medical Marijuana Card
The team at My Marijuana Cards is here to answer any questions you may have regarding your state's medical marijuana card application process. Gain access medical Marijuana dispensaries in your state and states that accept out-of-state medical cards. Our mission is to provide unparalleled support in cannabis education and accreditation.
My Marijuana Cards can help you navigate through understanding what you need. Contact via email here or via phone at 1(877)783-1805.