Can You Donate Plasma If You Smoke Weed in 2023?
Every two seconds someone in the US requires blood or platelets according to The American Red Cross. One vehicle accident victim alone may need 100 units of blood. Unfortunately, just 3% of Americans give blood. However, if you consume pot, can you give blood or plasma to save lives? Does cannabis use and blood donation requirements vary from state to state? Let's investigate what's new for 2023.
What Is Blood Plasma?
Blood is made up of plasma, red blood cells and platelets. Plasma in blood contains special proteins that aid in clotting. It also delivers potassium and salt to muscles, while regulating pH levels for cell health in the body. Life-threatening injuries such as burn, blood loss, and anemia patients need blood and plasma donations. Despite the high demand, US and global blood donations are dangerously low.
Blood plasma's functions in the body include:
Transporting red blood cells and platelets around the body,

Bringing electrolytes like potassium and sodium to the muscles,

Carrying proteins needed for blood clotting,

Housing a large portion of the immune system and the proteins it needs.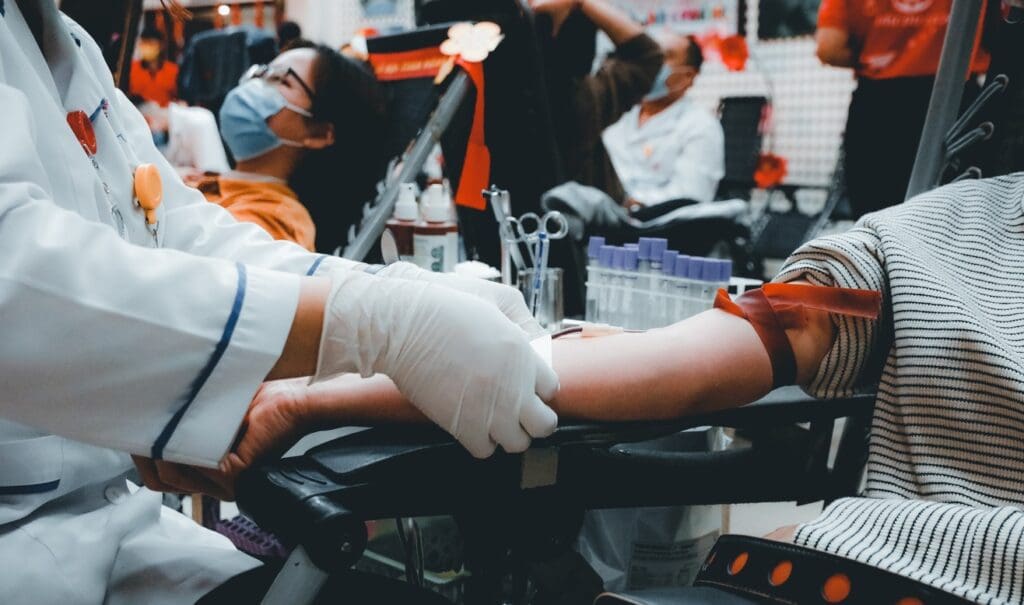 What Are The Requirements For Donating Plasma?
Even with a medical marijuana certificate, cannabis consumers fear giving plasma, even though the requirements are simple requirements. Let's review the universal standards.
The majority of states allow 17-year-olds to donate blood, although others have the age minimum at 16. Also, certain states require parental permission. Donors must weigh at least 110 pounds and be in excellent health. As long as they're being treated, chronic diseases like diabetes don't disqualify a person from donating blood as long as that condition is being treated.
Types of Blood and Plasma Donations
The Red Cross categorizes blood donations in categories based on certain specifics: Power Red, Platelet, and AB Elite Plasma Donations.
Power Red Donation
Donors of the Power Red category require the blood types: O, A negative or B negative. Just like with regular donations, participants must be healthy. For male donors, they must be at least 17 years old or older, 5′ 1″ or taller, and weigh more than 130 pounds. Female donors must be 19 years old, 5'5″ tall, and 150 pounds.
Platelet Donation
During this type of donation, only a small amount of blood is drawn from a donor. The blood is taken from the arm and goes into a machine that spins to separate it. During this process the platelets separate from the blood.
AB Elite Plasma Donation
This type of blood donation is exclusively for Type AB donors. This type of blood is the rarest, with just 1% of the population having this blood.
Apply For Your Medical Marijuana Card Online Today!
Obtain a Med Card in your State
Disqualification From Donating Blood Plasma
There is not a single blood donation rule that prohibits the use of cannabis by the donor.
The Red Cross provides a list of all of the potential eligibility requirements in order to limit illnesses from being spread. People are not eligible to participate if they have certain blood diseases and take medication that alters their blood. In addition, people living with certain blood-borne diseases such as hepatitis B, hepatitis C, or HIV. Also, fresh tattoos are grounds for exclusion. In most cases, these limits prevent the illness from spreading.
Also, a donor may be excused from donating if they recently had a tattoo.
Donating Plasma & Synthetic Weed
Synthetic marijuana, often known as K2 or spice, is a lab-made blend of synthetic cannabinoids that may be smoked or vaped. These synthetic cannabinoids are chemically comparable to THC and CBD, but that's all. They're not just bad cannabis; they're lab-made poisons.
Synthetic cannabinoids attach to brain receptors like THC, but they have distinct effects. Delusions, paranoia, hallucinations, and seizures may result from these cannabinoids. To make things worse, some users suffer withdrawal symptoms from synthetic cannabis, which may be addicting.
According to most experts, synthetic marijuana users should not give blood even if the Red Cross and FDA do not officially restrict it.
Do Donation Centers Do Drug Testing?
Donation centers do not drug test participants. Instead, they ask donors about lifestyle variables, including drug usage. Donors may lie, but institutions screen blood donations for contagious illnesses and keep records of inappropriate donors.
Plasma donors may use cannabis. Donated blood is not THC-tested. Even if donation centers tested, pure CBD products would not show up. Donation centers do not drug test, but marijuana users dont need to pass a drug test to donate blood.
Plasma Donation Tips For Weed Smokers
Take a cannabis break before donating blood. A day or two is enough to detox to eliminate active THC. As a favor to the recipient, the donation facility may inquire when you last used cannabis.
Beyond that, cannabis users should donate like everyone else.
Eat before donating. Iron-rich meals are preferable. Vitamin C aids iron absorption. Citrus fruits, melons, berries, and tomatoes are vitamin C-rich.

Hydrate before and after donating.
Conclusion
Yes, plasma donors may use cannabis. If you want to donate, visit your local Red Cross donation location.
The cannabis plasma donors' dilemma was best summed up in a Healthline article. "While the Red Cross does not advocate controlled drug use, marijuana, cigarettes, or alcohol usage does not always preclude a person from donating blood." Alcohol and drugs prevent donors from giving. Legal or illicit marijuana usage does not otherwise induce deferral."
Before giving plasma keep it in mind certain requirements, but don't let them deter you. Medical marijuana doctors can easily identify if you qualify. It's essential to follow your state's cannabis rules, even if the Red Cross won't test you for THC.
Apply For Your Medical Marijuana Card Online Today!
Obtain a Med Card in your State
What are the requirements for donating plasma in your state?
Donating Plasma in South Dakota
Donor requirements vary from plasma centers in South Dakota. Typically, a donor must be 18 years of age, weigh at least 110 lbs and be in generally good health. Donors must also bring a valid photo I.D. and proof of address. Some centers require proof of social security number, so check before visiting a particular location. Getting your medical marijuana card does not affect a patient's ability to donate. Schedule your medical cannabis card appointment here for Sioux Falls and Rapid City. For more information about donating in South Dakota visit here.
Guidelines in Michigan for Plasma Donation
Eligibility requirements in Michigan suggest the donor must be 18 to 70 years old and weigh a minimum of 110 lbs. The donor must prove residency via social security number and other proof of local address. During your first visit, the center will perform a brief medical examination and health questionnaire screening. Having a medical cannabis card in Michigan doesn't impact your ability to donate. Book a medical marijuana card appointment for Michigan. For info about Michigan plasma donation visit here.
How to Donate Plasma in Ohio
According to Ohio law, the only restriction is a federal requirement that a person cannot donate plasma if they ever tested positive for hepatitis B. Plasma centers in Ohio do have their own guidelines as age and weight requirements. Please check the requirements for donation at the facility nearest you as you prepare for your first visit. Patients can schedule a virtual appointment to get their medical cannabis card here. Having a marijuana card doesn't impact your ability to donate — obtain your Ohio medical cannabis card by scheduling an appointment online. Get more info about about blood donation requirements.
Guidance for Mississippi Plasma Donation
Mississippi Blood Services requires that blood donors must be 16 years or older, weigh at least 110 lbs and are in good health. There are other health factors that rule out a person's eligibility for plasma donation such as blood disorders, hepatitis and liver or lung disease. Be sure to check the requirements at a particular plasma center before scheduling your appointment. Getting your Mississippi medical cannabis card by booking an appointment online. Certified patients with marijuana cards in Mississippi cans still donate plasma. Find more details about blood donation in MS.
FAQ'S Can You Donate Plasma If You Smoke Weed?
Can you donate plasma if you have drugs in your system?
Yes and No, It depends on the types of drugs that are in your system at the time of your plasma donation. Donors must pass a screening process and meet specific eligibility criteria.
Is smoking bad for donating plasma?
Smoking may affect the quality of plasma and cause adverse health effects for both the donor and the recipient. Smoking cigarettes is not an absolute disqualification for plasma donation, but it may affect eligibility depending on the donor's overall health and smoking habits.
What medications disqualify you from donating plasma?
Several medications can disqualify individuals from donating plasma, including antibiotics, blood thinners, and immunosuppressive drugs. Donors must provide a complete list of their medications during the screening process, and the eligibility criteria vary depending on the medication and the donor's health status.
Can you donate plasma if you smoke weed?
Yes, you can donate plasma if you smoke weed at some donation locations. According to the American Red Cross marijuana usage does not automatically disqualify you.