South Dakota law, requires that registered medical marijuana patients renew their medical marijuana cards every year. If you are wondering how to renew your South Dakota medical marijuana card, look no further! In this blog, we will break down everything need to know about renewing your medical marijuana card before it expires, to ensure you never have a gap in your access to treatment, and that your medical card renewal goes as smoothly as possible.
When can I renew My South Dakota Medical Marijuana Card?
According to the South Dakota Medical Cannabis Program, patients will be able to renew their card 45 days before the expiration date found on their marijuana card. Its important to know, that the state of South Dakota Medical Cannabis Program does not send reminder emails about renewing your card.
Therefore, it is up to patients to keep an eye on when their marijuana card expires and to make sure they renew (i.e., schedule an appointment with their doctor) by or before the expiration date on their card.
Apply For Your Medical Marijuana Card Online Today!
Obtain a Med Card in your State
How to Renew Your MMJ Card In South Dakota
In South Dakota, it is required to be see your medical marijuana doctor at least once a year in order to keep your card valid. Thank goodness, renewing your South Dakota medical marijuana license is a simple procedure with My Marijuana Card.
Step 1: Book your Renewal Appointment
Step 2: Fill Out Digital Intake Forms
Fill out our short SD renewal patient intake form. These forms can be filled out in less than 3 mins.
Open your email: Your digital intake forms are sent to you Immediately after booking ( Check Spam/ Junk Folder)
Step 3: Get Renewed and Evaluated
Visit one of our numerous offices spread out around the state
The doctor will review your medical history and discuss with you on if there are any changes in your qualifying condition over the year. anto see if you qualify for a South Dakota Medical Marijuana Card.
Typically, you can use the same medical records you provided at your intial evaluation, unless otherwise stated by the doctor. In the case that your condition is curable, the doctor may request for recent medical records to prove that you still have an active qualifying medical conditon.
Step 4: South Dakota Medical Card
Pay your state registration after the provider has approved you.
Wait for your medical cannabis card to arrive in the mail. On average most patients receive their cards within 3-4 weeks.
Start shopping at any of South Dakota's licensed medical cannabis dispensaries.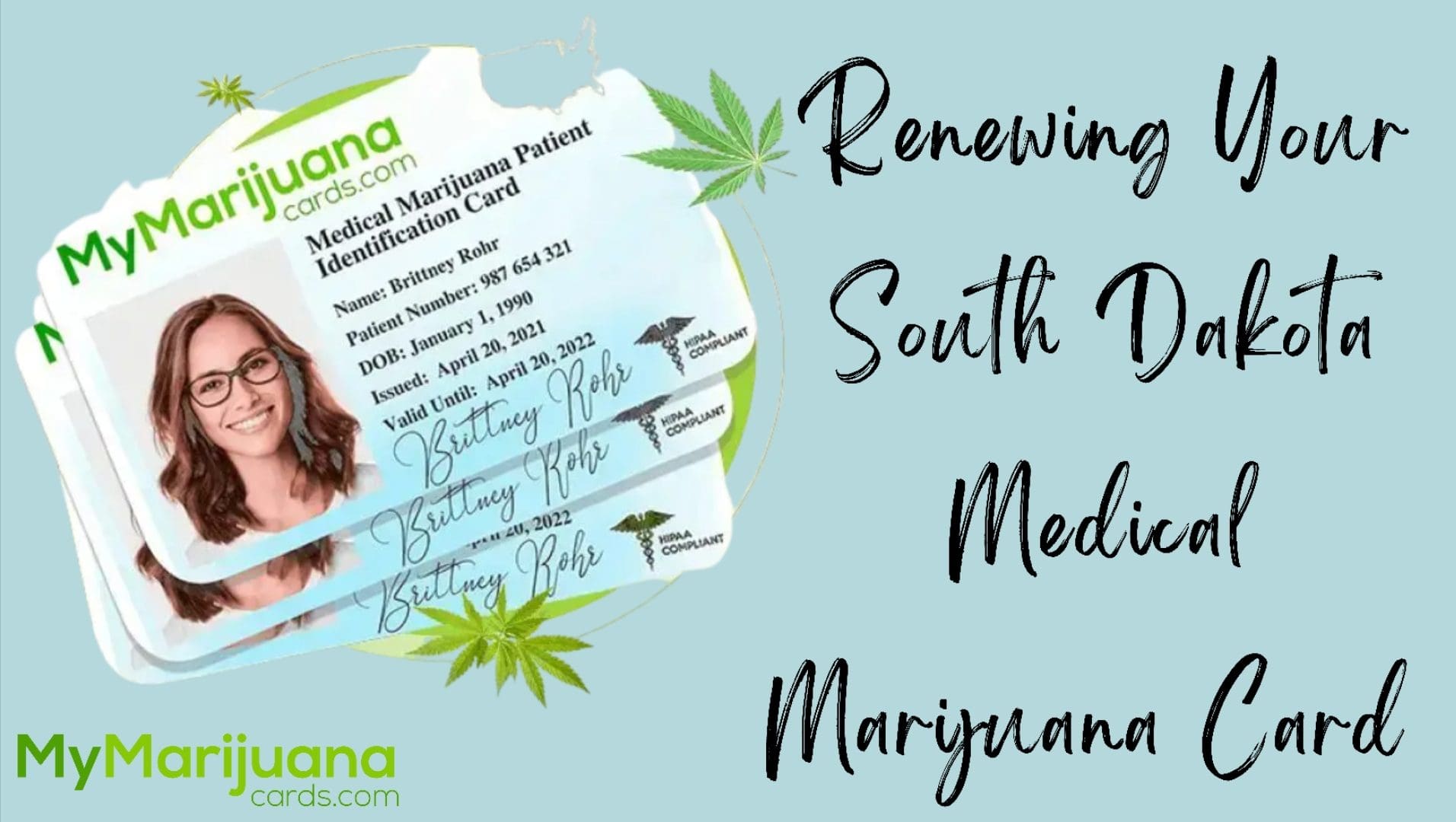 I Already have a Marijuana Doctor. Why switch to My Marijuana Card for My Renewal?
Getting your medical marijuana card from My Marijuana Cards is quick, cheap, and risk-free. The examination cost is waived if you are not accepted for medicinal marijuana.
✓ Rapid Results & Same-Day Buying
Get the doctor's approval in a matter of minutes. After receiving an electronic recommendation, you may often immediately buy medicinal cannabis in many states.
✓ Security
Keep in mind that your personal information is safe with us. All information is kept private and securely in accordance with HIPAA standards. You may rest easy knowing that trusted third-party payment processors handle all transactions.
✓ Discretion
Have no fear about the continued social stigma associated with cannabis usage or with others finding out whether you use it or not. No one except us needs to know that you visited, thanks to the convenience of online scheduling.
✓ Takes Work Off Your Plate
With My Marijuana Cards, you'll spend less time working and more time relaxing. We make the process of renewing your medical marijuana card easy. This is why were the leading medical cannabis card provider in the state of South Dakota.
Apply For Your Medical Marijuana Card Online Today!
Obtain a Med Card in your State
[custom_country_dropdown
FAQs
When Do South Dakota Medical Marijuana Cards Expire?
A one-year limit on the validity of medical identification cards.
How Long Is The Physician's Recommendation Valid?
1 year. Patients are given a 45 day window before the expiration date to renew their card.
What Happens When I Don't Renew My Medical Card?
Patients may no longer lawfully acquire or have access to medical cannabis inside South Dakota. This also includes those who have grow licenses as well. Start the renewal procedure 45 days before your card expires to avoid this.
What Are The Requirements For Renewal?
You'll need the same kinds of paperwork you submitted when you first signed up. A valid photo ID, proof of current address, and a letter of reference from your physician are all standard included.
What Fees Are Involved In Renewing My Med Card?
State fee and the price of your medical marijuana examination.