In an emergency decision on Wednesday, March 18, 2020, the Ohio Medical Board approved  Telehealth/Telemedicine for medical marijuana recommendations and renewals in order to "provide essential health care during the COVID-19 pandemic."
In the wake of (Covid-19) social restrictions, we are excited to  offer  you the opportunity to get your Ohio Marijuana Card from home via the use of our new telemedicine platform.
In the mean time, we wanted to take the time to explain the benefits of a telemedicine medical marijuana evaluation: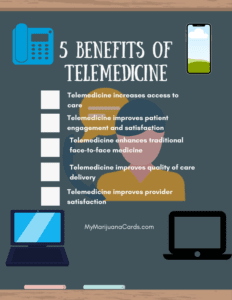 What is Telemedicine?
" Telemedicine is the use of telecommunications technology to provide real-time health care to patients at a distance."
How can Telemedicine Benefit me?
​
Telemedicine/telehealth has been shown to improve not just access to healthcare, but overcome some of its most common institutional barriers; including: the distance between patients and doctors, lack of transportation, and overall appointment flexibility/availability.
Thanks to our latest developments, the capacity to provide safe, legal access to medical marijuana is increasing everyday. This is great news for Ohio residents, as Telemedicine grants us much broader access to patients in need.
It is our understanding that the State of Michigan Medical Board is looking to pass similar emergency orders concerning access to telemedicine . When that happens, we'll be sure to let you know.
---
book telemedicine Appointment now
Schedule a consultation today!
If you are an Ohioan suffering from one of these 21 medical conditions you may be eligible to obtain your own Ohio Medical Marijuana Card to treat your ailment with medical marijuana, which includes both THC and CBD products. Any of the products listed above can be found at your nearest Ohio Dispensary.
Click here to learn more about what My Marijuana Card's state-certified Ohio marijuana doctors can do for you, or give us a call at (419-237-7119) and our friendly patient coordinators will set an appointment and walk you through the process of receiving your own Ohio Medical Marijuana card. ​Get your Ohio marijuana card today online!