Curious about which medical marijuana strain is best for you? Read on to learn more about this week's featured strain — Wedding Cake.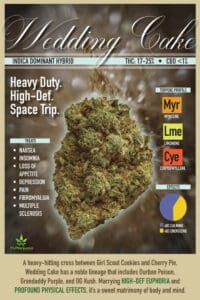 Curious about Wedding Cake or other potent medical marijuana strains?
Find what serves you best — get an Ohio medical marijuana card from MyMarijuanaCard.com, now offering telemedicine consultations online. 
Get medical marijuana certified from the comfort of your home and experience Wedding Cake and other potent strains.
Call 419-237-7119 now or click here to get started!
Get Wedding Cake now at your Local Ohio or Michigan dispensary.