Get Your Michigan Medical Marijuana Card Right From Home!
Get approved for medical marijuana right from home by making an online appointment with one of our specialists! With so much at stake during these uncertain times, we're here to make your medical marijuana approval process as quick and easy as possible.
The Process – Telemedicine For Michigan Medical Marijuana
Telemedicine is an easy, safe and HIPAA compliant process where you'll be approved by a medical marijuana doctor via video conference.
​Book an appointment online here, or just give us a call and we'll send an intake form to your email.  The easy intake form allows you to include your medical information and a copy of your ID card for the doctor to review before your consultation.
For your convenience, we do offer same-day appointments, but if prefer to schedule out, we'll text and email you a telemedicine conference link the night before your consultation.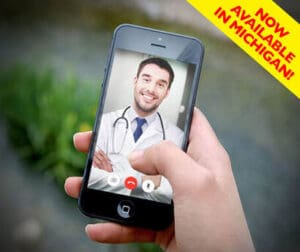 ---
Your Virtual Consultation 
Near the time of your appointment, you'll enter our virtual waiting room, where your medical video conference will begin. Once you speak to the doctor and confirm your qualifying condition, you'll get an official recommendation for medical marijuana.
After that, you'll be registered with the board of pharmacy, and receive your medical marijuana card. The card will grant you access to all Michigan medical marijuana dispensaries and a bunch of new ways to be well.
​Congratulations! We're pulling for you!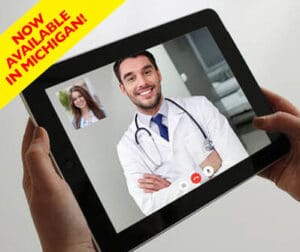 ---

​BREAKING NEWS!
"On May 14, 2020, Governor Whitmer signed Executive Order No. 2020-86, encouraging the use of telehealth services during the COVID-19 emergency. Her order is effective immediately … while EO 2020-86 is in effect, the written certification required for issuance of a medical marijuana patient registry card will not require the medical evaluation conducted by a licensed physician to be conducted in person. Relevant medical evaluations may — and to the greatest extent possible must — be conducted via telemedicine."
Question: What does this mean? 
Answer: This means that patients like you can now see the doctor from the comfort of your home. Making the process of obtaining your Michigan medical marijuana card much easier. Simply click the link below and book an appointment from your smartphone, tablet, or computer to talk to the doctor! Telemedicine appointments are available for both new patients and renewals. Patients new to the Michigan medical marijuana control program can get registered and approved same day!
Be able to say, you got your Michigan Medical Marijuana Card online and you didn't have to leave the house.