If you are familiar with Michigan's Medical Marijuana patient program than you know it hasn't changed much since starting over 10 years ago. Either if you're a patient or caregiver, you still have to see a state of Michigan board-certified doctor in person in order to be approved for your Michigan mmj card. That portion of obtaining your Michigan green card has NOT changed.  No more 6-8 week wait! Apply online and get your Michigan Medical Marijuana card today! Now be able to purchase medical marijuana at any Michigan dispensary moments after you leave our office!
Using the online application, you can: apply for your medical marijuana card, submit your state fee online, and receive your temporary digital medical marijuana card that same day. Many people wonder, can you get a medical marijuana card for anxiety in Michigan, and the answer is no, but the entire application process from submitting your online medical marijuana application, to the doctors' approval can all be paperless! Save the postage! Instead of the doctor filling out your paper application and then mailing it to the state, the doctor can now approve your application online! All of our physicians at My Marijuana Cards are certified to do the online process. It is important to note that not ALL Michigan Medical Marijuana doctors are set up to do online applications. If you are outside of our practice and are wondering if your doctor is certified online, be sure to check with them and see if they are registered to submit online applications before you begin the application.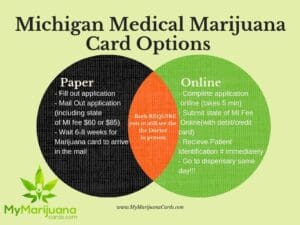 Call (517)214-9395 to Schedule a consultation today!
If you are a Michigan Patient suffering from one of these 23 medical conditions you may be eligible to obtain your own Michigan Medical Marijuana Card to treat your ailment with medical marijuana, which includes both THC and CBD products.
Click here to learn more about what My Marijuana Card's state-certified Michigan marijuana doctors can do for you, or give us a call at (517-214-9395) and our friendly patient coordinators will set an appointment and walk you through the process of receiving your own Michigan  Medical Marijuana card. Get your Ohio marijuana card today online! Get your Michigan marijuana card today online!